So, let me give you a little background on how I became a model. God, that sounds pretentious, but anything you say that includes the words "I'm a model....blah blah blah...." is gonna sound pretentious. I swear I'm not, so you are just gonna have to take my word for it.
I was born and raised in Los Angeles which basically made wanting to be an actress as natural to me as having 365 days of summer a year. I was passionate about my thespianism, did all the school plays & musicals. The whole nine yards. I never even considered being a model, and didn't pick up my first fashion magazine until I was 17. Thanks to my completely non fashion conscious upbringing, I was just not cute....or maybe cute in the way a gawky, semi androgynous teen could be cute...but that's it. Let me put it to you this way......I never got asked to Homecoming or the Prom and actually got turned down by a major crush of mine when I asked HIM to senior prom. Awesome.
So, since both of my parents gawked and practically had coronaries when I told them that I wanted to pursue acting when I graduated from high school (I swear you would have thought I told them I wanted to be a stripper) I decided to go to college and major in that other thing I was pretty good at...writing. I became an English major with minors in Spanish and German. That seemed to appease them for the time being, and I had a blast moving up to Portland, Oregon to go to school. Once I graduated, I got a job as the editor for a small, Catholic, Spanish language newspaper. It sounded great, but seeing as I am not Catholic and consider myself a liberal....I couldn't stand writing and editing articles that basically told the Hispanic population of Oregon that birth control is evil and other such offal. So I quit. I walked into the city's biggest talent agency figuring I could land some roles in local commercials and well....the rest is Peacocks on Leashes.
My agency, Q6 Model & Artist Management, kindly told me that there wasn't much by way of acting in the great metropolis of Portland, but would I at all be interested in modeling? And if so, would I be interested in traveling abroad to do so? Tough questions to answer, but after about 2 seconds I had to say yes to both. They promptly sent me to Seattle to shoot with who I still and forever will consider one of the most amazing photographers ever, Marc Von Borstel......a man who with lip gloss, natural light and a tube of mascara turned me into a real life fashion model . This is the picture that launched a thousand trips....well, maybe not a thousand, but definitely launched a thousand incredible memories in the world of fashion...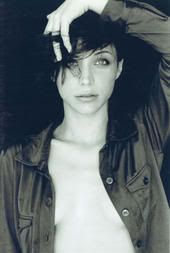 Within a month, I was sent to Taipei, Taiwan with an 8 week, five figure contract to do catalogs and magazine shoots. And that is how the story begins........