I have to admit that it makes me chuckle to this day when I hear models and bookers at random talk about the supposed urban legend of a group of models jumping totally naked off of the Rialto Bridge in Venice Italy. Urban legend? Ha! The only thing that is remotely mythic about this bridge jump is that it is STILL to this very day talked about by completely random people in the industry.....how could I have imagined this would go down in modeling history when I was boarding the train from Milan to Venice with my friends that fated morning.
En route to Venice!: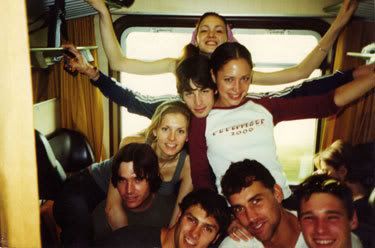 Rather than try to re-tell things as they happened, I'll just go ahead and copy my journal entry from that day. Here goes....the myth, the urban modeling legend......IS REAL!
4/25
Yesterday, Jean-Paul, Ned, Paul, Muffin, Jennifer, Katarina, Jason, Sam and I all took the 9 am train from Milan to Venice. We had a blast piling into the compartments and joking around. Then once we got to Venice we ran around the city like crazed teenagers eating, singing, laughing, joking. I was once more amazed at how exquisitely beautiful that city is.
Models DO eat junk food...and lots of it. Burger King in Venice....they should have paid us for this!: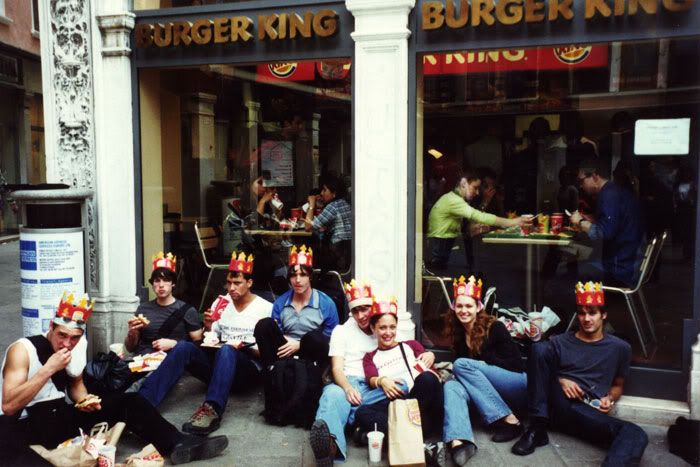 We bonded so well as a group and our energy together was amazing. As evening approached, we went into a small liqour store down a tiny, cobblestoned alleyway and bought cheap wine that we commenced to drink while walking around the streets and piazzas of the city until we were all in a drunken state of sheer bliss.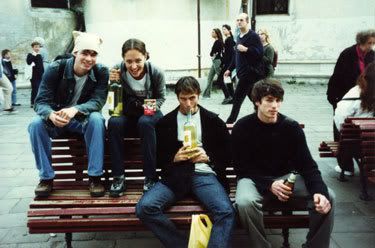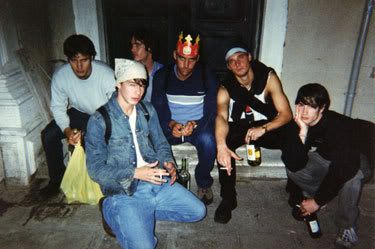 We ran around like children hiding and chasing each other down dark alleyways, peeing in the canals, window shopping for masques and loving being with each other. And then, at midnight, the boys decided to go skinny dipping in the Grand Canal...by way of jumping off of the RIalto Bridge.
Maybe because I was raised by outrageously straight laced parents, and I could hear....even while inebriated...my mother's voice stating the cliche "If your friends jumped off of a bridge, would you?", I abstained from the event. Instead I contented myself with taking pictures of everyone although somewhere inside of me I wish I would've joined them. By the time the second person had stripped down and jumped, there was a pretty sizeable crowd of tourists and locals that had stopped and become spectators....even at midnight there were people out with their camcorders and cameras. I wasn't the only one recording this event.
One after another, my friends all dove off of the bridge in their birthday suits and then commenced to run back up the bridge and hurdle themselves off again. It was amazing, funny, beyond words. The onlookers we had attracted were cheering, people were hanging out of their canal & bridge view windows.....it was getting insane. And then all of a sudden we saw the police rushing up in their boats.
I am all about respecting everyone's comfort level....hence the strategically placed star: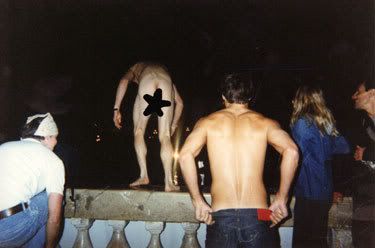 JP pulled me away and we made it down off of the bridge. We saw the police running with their billy clubs out and ready and they ran right past us. I will never know why they didn't stop us.....I was dry, but JP was still dripping from the jump.....and they caught up with Paul, Jen, Kat, Sam, Muffin & Jason beating them with their clubs and then handcuffing them. JP and I ran into Ned who had somehow also escaped unscathed and, after some little Italian kids ran up to us and told is to flee because our friends had been arrested, we ran back up to the bridge and watched the police drive off in their boats with our friends. We were stranded in Venice.
So, we wandered the streets. The three of us. The Mod Squad. Finally at 1:30am we found the train station and it was locked so we sat outside for an hour. After freezing our asses off, we decided to wanter down a road and look for some food. Next thing we know, we are in a nightclub with a hairy backed transvestite in a tight red dress dancing next to our table. We just sat there not knowing what to do or think or if this was all really happening to us. I couldn't stop laughing. I was delirious.
Then a group of young girls came up to us and asked us if we wanted to smoke with them, so we all left the club and followed them to a piazza where we sat on the the steps of a church and shared a joint while one of their guy friends twirled a flaming baton in the air. Surreal. They sat with us and chatted for hours and at 4:30 am they took us to a bakery where they bought us each a jam filled brioche straight out of the oven. We said our good-byes, headed back to the train station and 45 minutes later our friends, who had spent the night in jail, were released. We were so happy & relieved to see them.
We got on the first train back to Milan and slept the whole way back, piled on top of each other like puppies. What an amazing 24 hours. I will NEVER forget this.
Tonight we all went to dinner at Louisiana. We have bonded eternally from this experience. I love these guys. JP leaves on Monday. I will hate to see him go, but now I know I can hang with my boys anytime. I can't wait to develop the pics from this adventure. What a rush. This is life!
***Note***
The next day one of the guys bought a Venetian newspaper from a newstand in Milan and there was an article, it may have even been on the front page, describing the previous night's event. Funny thing was that in the article we were described as "drunk, American youths" and they likened the bridge jump to desecrating the Statue of Liberty. I have to clarify that only Ned, Sam and I were American. Nice generalization, huh?! And I, one of the Americans, didn't even partake in the jump! I just photojournalized it. Guilty by association....yes! My friends that got arrested ended up having to deal with Italian attorneys. pay court fees, and were told to take a course of antibiotics because the canal water was so polluted. I'm not sure what all ensued after that.....but they are all still alive and well, so I'm assuming none of them contracted the plague that night.